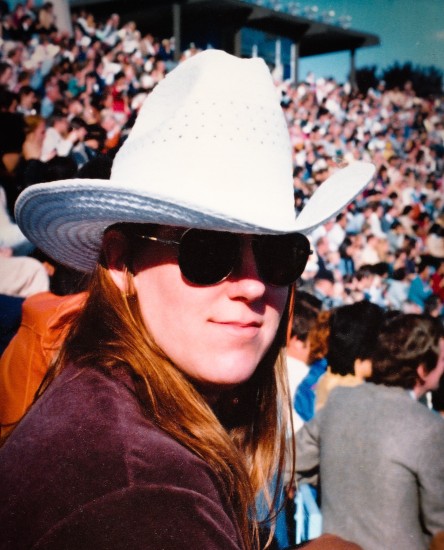 Prior to her incarceration, Fran lived on a farm in Knox County, Nebraska. She was a pre-law student, as well as a dedicated advocate for environmental preservation and animal rights, planning to pursue a career in environmental law. All that changed when a man who threatened to kill her entered her rural home. Fran shot him in self-defense, but was charged with first-degree murder. Barred from presenting an argument based on her fear of violence, and having exculpatory evidence withheld from her, she was ultimately convicted and given a life sentence.
Fran's Background & Advocacy Work

Fran grew up on the outskirts of Omaha with her parents and sisters. She was very close with her father, a Navy vet who operated a machine shop, often spending time after school with him at the shop. In 1976, Fran's husband was killed in a construction accident, leaving her with a 7-year-old son to raise on Social Security survivor's benefits. Despite this, and perhaps because Fran remembers the poverty of her own childhood, she always managed to put enough aside for monthly donations to aid destitute third-world children and often for animal welfare projects. When she found an injured mouse, she could not bear to kill it; rather, she used what resources she had to save it for later release. Then a friend challenged her. She had gone to this extreme for a mouse, and yet she ate meat. Did she really care about this small creature, or was she just bring foolishly sentimental? Through this, and a subsequent experience, Fran became a vegetarian, refusing to eat not only meat but dairy products as well; and the desire to alleviate the suffering of animals has become the driving force of her life.
Once she visited a local nursing home and asked the staff, 'Where's the meanest, nastiest, most miserable old lady you got in here?' Arms pointed in unison. That person then became Fran's friend, and little by little everyone else's friend as well. Over the years, Fran would find herself again and again ministering to elderly, lonely, and often bitter women she had met through friends, making their lives once more worthwhile. She joined Mensa and greatly enjoyed the intellectual stimulation her friendships within the organization provided.
In 1979, Fran fell in love again. She thought he was too good to be true, and he was. Ron Thompson turned out to be a man given to paranoid fantasies and terrible, jealous rages. When Fran tried to end the relationship, she was kidnapped, bound and gagged, threatened and tortured psychologically and repeatedly raped over a period of two days. After this experience, she resolved to avoid romantic relationships and focus on advocacy work and returning to college.
Fran pursued undergraduate studies at the University of Nebraska, where she earned a 4.0 grade point average, in preparation for law school. She was known on campus as petite with long brown hair and a signature style of tailored lady's western suits, a white 10-gallon hat and western boots, as well as for her advocacy work and excellent grades.
Most of Fran's free time was reserved for environmental preservation around where she called home– Knox County, Nebraska. Shortly after he came into office in the early 1980s, Knox County Attorney John Thomas convinced the Board of Supervisors to alter zoning regulations in the county charter and Comprehensive Development Plan. Months later, Knox County was the leader in the Dames and Moore Survey for proposed and preferred sites for nuclear waste burial. A 5-state nuclear waste dump was slated. Soon too, the Waldbaum egg factory was built in Knox County, and a hazardous waste incinerator was slated for the Santee Sioux reservation. John Thomas, the prosecutor at Fran's trial, was a major proponent of these three projects, all of which were possible only due to the zoning changes. They would have likely brought the county, and wealthy investors, big profits. However, Fran's contention is that they would imperil the environment and the health of residents by subjecting them to hazardous materials from the incinerator smokestacks as well as salmonella and histoplasmosis from the egg factory.
In the effort to stop the projects, and to reinstate the zoning regulations, Fran was always prominent frequently attending and speaking at public meetings. Fran organized and gathered signatures to stop the development of the nuclear waste dump and went to the County Board of Supervisors to help stop the toxic waste incinerator. She initiated and organized petition drives and had researched and documented Waldbaum's lack of environmental safeguards at their existing facility in Wakefield, Nebraska. She had proven misstatements of fact in Waldbaum's Environmental Assessment Report and was about to bring it to HUD's attention. Until her arrest in 1991, she continued to exchange letters with various other government agencies. She was preparing to send material to all pertinent government representatives when her computer records were seized and never returned to her. Fran had obviously been at odds with the prosecutor, who acted dually as the County coroner, through her advocacy work.
Legal Case
Dean Frank, a local handyman in Knox County, had lost two farms to bankruptcy. Fran's mother hired him to work on her farmhouse where Fran was living and they were on friendly terms. Dean liked what he saw– both in the farm and in Fran. After Fran's son moved away to join the Navy in 1990, Dean tried to become her husband and became imposing and demanding. Fran checked with his former girlfriend and his ex-wife. Yes, Dean had a notable history of violence towards women. Fran called the relationship off.
In early August 1991, Dean called numerous times to make threatening statements, and was becoming increasingly irrational as Fran was trying to distance herself from him. Frightened, Fran began keeping her deceased husband's .357 magnum with her at all times. She tried to summon help by calling the Sheriff's Department, on both the 17th and the morning of the 18th, to inquire about an order of protection. She was told there was nothing they could do immediately unless he acted or he was at her house at the time of her call, but to come in the next day, a Monday to file for a restraining order.
On the evening of Sunday, August 18, 1991, Dean Frank entered Fran's rural farmhouse uninvited and unannounced. Because of a hearing deficiency, Fran did not become aware of his presence until he was in the next room, again declaring that he was going to kill her. She produced the pistol from next to the chair where she had been working at her computer and said, "No, you're not." When his movement continued toward her, seized by sheer terror and the instinct to survive, she rapidly fired all six bullets in the revolver without aiming. The first three shots hit him in the torso and the following three went into the floor. She then edged around him, regretting the bullets wasted on the floor in case he got up and came after her again. In the kitchen, where the phone was, she called 911 to report the incident, even as she reloaded her gun in desperate haste, shaking with fear.
Fifty minutes later, the sheriff and an ambulance arrived to the remote 850-acre property. In that time, it had become apparent that Dean was wounded too badly to be any sort of threat and would probably not survive. But he did live for that long, and for that time she did what she could to make him comfortable. He had once been a friend after all. She gave him a pillow for his head, and gave him water when he asked for it. She also gave him a pencil and paper when he began to write on the floor in his own blood a last message about loving her and that she had fired in self-defense.
The sheriff was apologetic that he was unable to do anything more for her before tragedy struck. He took her back to the station, saying that it was obviously self-defense and she would be released after a coroner's inquest. But the next morning, John Thomas, Knox County Attorney and coroner, charged Fran with first-degree murder and commission of a felony using a firearm. Bail was set at $250,000.
Before the trial began, false rumors circulated: Fran had murdered both her father and her first husband; Fran was a divorcee; Fran had strange and bizarre relationships. The defense requested a change of venue, but that request was denied. At the trial, the sheriff could not recall, or would not testify to, the statements he made to Fran that night. Deputy after deputy took the stand to testify to the likable and well-respected character of the deceased. However, they were reminded by Bruce Ellison, attorney for the defense, that they themselves at one time or another had arrested Dean and written reports on various charges of assault. The forensic pathologists' testimony seemed to deviate from his original report. This issue of withheld exculpatory evidence was addressed on appeal. Other witnesses blatantly perjured themselves, as proven by documentation submitted by the defense– perjury that would, of course, never be charged since charges could only be brought by John Thomas. Still, it seemed the verdict could go only one way.
In perhaps any place but Knox County, allegations that Fran had lured Dean to her house to kill him simply because she was tired of the relationship would have been listened to with more than a little incredulity. There are far easier ways to end a relationship, and they don't stain the carpet. But Fran was found guilty as charged. She was placed in jail garb, handcuffed and taken to the women's prison in York. Until the sentencing hearing of October 5th, there was still hope– hope that the judge would hold a decision until an appeal or retrial could be arranged. However, Fran was sentenced to life in prison and remanded back into custody.
Fran's family and friends are seeking commutation of sentence or parole for Fran now that she is over 70 years old and has spent three decades in prison.